Home » Dances from Fortnite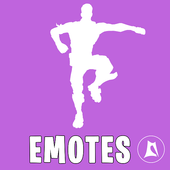 Dances from Fortnite - Download For Android
The Description Of Dances from Fortnite
?Updated for Chapter 2. All new emotes included! Leaks and Shop!?
Unofficial App for Emotes, Dances, Skins, Daily Shop and other Cosmetics from the game!

Get all the Fortnite Battle Royale emotes and cosmetics on your phone right now! The cosmetics are from the real game.

Features:
★Videos of all the emotes/dances
★Watch videos in slow-motion or high speed (Android 6 or above).
★Get a Notification when new leaks or emotes are added. Be the first among your friends to know what's new and coming in Fortnite!
★View the daily sales with images and vbucks price
★Easy access to the latest six emotes, no need to search/look for them.
★Let the App Notify you when an item you want is in the Daily Shop.
★View upcoming and leaked cosmetics including video links to the latest emote leaks
★Browse or Search all cosmetics in Fortnite: emotes, outfits, gliders, back blings, emojis, pickaxes, skydive trails, sprays and loading screens. Listing includes the vbucks price or requirement to unlock (e.g. Battle Pass level)
★Use the My Locker feature to keep track of all your Fortnite Cosmetics, see what is missing or what the total vBucks value is of your items.
★Random Emote - not sure which emote to view? Let the App decide!

The App includes all emotes ever released in Fortnite, including classics like Orange Justice, Floss, Zany, Groove Jam, Wiggle, Disco Fever, Take the L, Best Mates, Electro Shuffle and Crabby!

In order for the Shop to work and to get updated cosmetics lists the device has to be connected to the internet.
Missing Fortnite Dance/Emote videos are added post-release via a in-app downloading system that also requires an internet connection in order to add new videos.

This is an Unofficial Community Driven Fortnite App and has NO affiliation with Epic Games™

This App is adhering to the Fan Content Policy created by Epic
Portions of the materials used are trademarks and/or copyrighted works of Epic Games, Inc. All rights reserved by Epic. This material is not official and is not endorsed by Epic.
Policy URL: https://www.epicgames.com/site/en-US/fan-art-policy
This App has been confirmed by the Fortnite/Epic legal team to seem compliant with the policy.
This App does NOT contain any purchases of any kind, as required by the policies.

Legal Notice
Epic Games, Inc. Epic, Epic Games, the Epic Games logo, Fortnite and the Fortnite logo are trademarks or registered trademarks of Epic Games, Inc. in the United States of America and elsewhere. All rights reserved.
Dances from Fortnite Tags
Dances from Fortnite Additional Information
Latest Version:

2.5

Publish Date:

2019-11-07

Requirement:

Android 4.1+
Post a comment below
There are no comments yet.
Authentication required
You must log in to post a comment.
Log in