Home » Guide For Card Wars Kingdom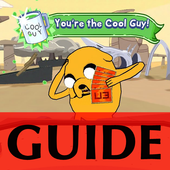 Guide For Card Wars Kingdom - Download For Android
The Description Of Guide For Card Wars Kingdom
This application game-guide for Card Wars Kingdom has been developed by players to players of Card Wars Kingdom . That is it provides essential information about Card Wars Kingdom for non-experiences players to basic players. For the advanced players of Card Wars Kingdom you will find the tips and tricks provided in this guide for Card Wars Kingdom would help you create better gameplays.

The content in this mobile reference has been tested against the latest version of the game for your highest correctness and completeness. It has been aggregated from several sources all over the world for the best accuracy including tips and tricks you should know.

This mobile application game guide is small in size and supports most of devices in the market today. After finishing this guide you will see how amazingly you can do in comparison to the experienced you have before getting this game-guide in hand. Don't miss. It's free to download and use without any limits.

##### Disclaimer #####

This application is a game guide for users or everyone who is interested in playing this game. It does not provide any free stuff such as images, music, games or unlocking code. Please do not refer to this one as a primary documentation of the product or the official guide of this product. For more information, please let us know via email.
Guide For Card Wars Kingdom Additional Information
Latest Version:

2.0

Publish Date:

2019-12-15

Requirement:

Android 4.0.3+
Post a comment below
There are no comments yet.
Authentication required
You must log in to post a comment.
Log in